There are a number of factors to consider when setting up rental tents – and ensuring the comfort and safety of guests is a top concern. For this reason, many tents come equipped with portable, temporary ductwork to provide necessary air conditioning, dehumidification, and/or heat.
Whereas HVAC systems in a permanent building consist of durable pipes, however, pop-up structures such as tents require a more flexible option.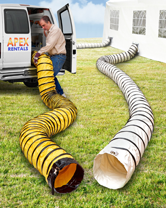 Heavy-duty temporary cooling ducts provide durability while allowing for potential movement and compression. Flexaust's FX-180 stitched ducting is ideal for commercial and industrial tent rentals for a number of reasons. It features rip stop technology and a PVC wear strip for added protection. There is also a high tensile spring wire that protects the duct from crushing.
In high-traffic areas, crush-resistance is a major benefit for cooling ducts since people may unknowingly walk or drive over the ducting. This feature allows for optimum air flow despite these conditions.
In addition, people may need to drag the duct to another area to keep it out of the way; using a fabric duct will make this easier without compromising the material's integrity. And because most rental tents are set up outdoors, moisture resistance, UV, and heat resistance are important considerations. Products such as the FX-180 ducting and our FX-400 resist UV rays and are flame retardant to ASTMD6413.
The FX-180 is a PVC coated polyester hose with a spring steel wire helix reinforcement. It was specifically designed for positive airflow applications such as those required for temporary HVAC systems. It has an operational temperature range from -20°F to 180°F, and meets NFPA-701 standards for flame resistance. This makes it ideal for providing temporary air conditioning and heat in most rental spaces.
The FX-400 offers superior abrasion and tear resistance, in addition to chemical, fuel, and oil resistance. Depending on the location and application of the tent setup, it may be beneficial to have this added layer of protection for ducting.
We also have ducting options that can operate in temperatures ranging from -65°F to 550°F, so there are many options and factors to consider when choosing the right product. Depending on the venue and other considerations, the hoses can even be customized with different colors, sizes, and lengths. And just as rental tents are often collapsible, these fabric cooling ducts are also compressible for convenient storage.
If you'd like to learn more about our full line of portable cooling ducts for large rental venues, feel free to contact us for additional information. We look forward to reviewing your application and coming up with the right solution to fit your needs.