Choosing the correct hose is vital to make sure it will meet the needs of an intended application. Recently our blogs have looked at why it is important to choose the correct flexible hose as well as what static conductive and static dissipative flexible hose means. In this blog we will look at the importance of high-temperature hoses and the applications they are used for.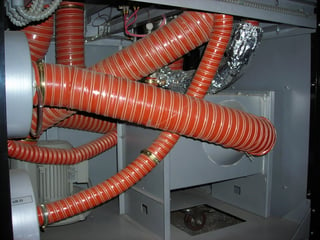 What Are High Temperature Hoses?
High temperature hoses are made to withstand a variety of temperature ranges to meet the needs of specific applications. The materials used to manufacture these types of hose are often durable and have excellent heat stability to be able to withstand the high temperatures in the environments they are being used in. Determining the maximum temperature to which a hose will be exposed to is important to make sure it will be the correct fit for your application.
High temperature hoses that work for a variety of applications include our Flex-Lok line which is made from materials which are locked around a galvanized or stainless steel metal clip and mechanically crimped in a continuous process. They are designed to withstand temperatures ranging from -65 degrees to 1200 degrees depending on the version. With excellent durability and heat stability, they are often used for vehicle exhaust systems which require a reliable hose system. Our Heat-Flex line also is made for high temperature applications like drying systems, pollution control and the plastics industry, as well as other high temperature environments.
Where Are High Temperature Hoses Used?
High temperature hoses are perfect for use in areas like bus depot maintenance facilities, mass transit authorities, military vehicle maintenance facilities, OEM-vehicle exhaust, heavy equipment maintenance, engine test stand applications, portable heaters, high end HVAC applications, and even pavement drying. Facilities like foundries and applications like dryer systems and furnaces also require high temperature hoses. These areas require durable hose that will be able to handle the high temperature demands. Choosing hose that is not designed to high temperature specifications can lead to hose failure, which could then lead to injuries, and other serious hazards.
To learn more about Flexaust and the hose and ducting we offer, connect with us on LinkedIn, and follow us on Twitter. If you'd like to talk to an expert, please contact us at any time.