Agricultural Hoses
For many agricultural applications, specific types of hoses are required to handle harsh conditions and work with certain chemicals and materials. Here we'll review what agricultural hoses are, their applications, and the different types available based on a given application's specific requirements.
Agricultural hoses are designed to withstand many environmental conditions and extreme temperatures. To reinforce their structure, many agricultural hoses feature a spring steel wire helix; others have an all-plastic construction with an outer plastic helix and smooth interior. In some applications with special sensitivities or other requirements, agricultural hoses are exclusively made with FDA acceptable materials.
Depending on the needs of your specific application, there are several flexible hoses available from Flexaust. You can use these hoses for applications such as:
Hose Types for Agricultural Applications
Based on the specific agricultural application, there are multiple types of agricultural hoses you can use, including:
Fertilizer Broadcasting
A broadcasting agricultural spray hose can apply slurry, liquid, or solid fertilizer or manure. Of the applications used for agricultural hoses, broadcasting is the least time- and energy-consuming. Broadcasting also creates uniformity in the application pattern. However, surface broadcasting can cause organic fraction on soil surfaces to gradually decay, and it promotes loss of nitrogen to the atmosphere.
For fertilizer broadcasting, a reliable fertilizer hose is required to provide consistent results. In many broadcasting applications, a system of flexible hoses is used to apply fertilizer or manure to arable land or grassland.
Cotton-Picking
For cotton-picking applications, it's important to have the right hose to meet your needs without the risk of failure. Cotton-picking hoses are often used in today's systems, which typically use flexible suction hoses and suction heads to pick cotton pneumatically, driven by an engine.
Normally, these hoses are mounted on straddle tractors and work in conjunction with a bale-tying mechanism. The cotton harvesting system then bales cotton immediately after it's picked. After baling, the bales are moved to a raised drying floor before they are transferred to a processing facility.
Grain Vac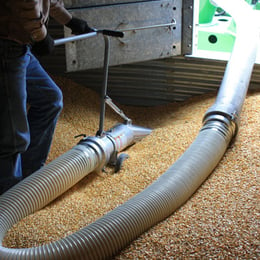 If you require a solution for grain vacuuming applications, the Flexaust Flex-Tube® GV-GW is a highly flexible heavy weight clear polyurethane hose with a rigid black external PVC helix and an embedded copper grounding wire. The enclosed copper grounding wire is ideal for reducing static build-up in handling dry materials in light bulk quantities.
This particular farm hose is easier to handle and more lightweight than heavy wall PVC hoses, making it the best option for use in applications requiring adequate airflow along with excellent hydrolysis and microbial resistance, tear resistant with high tensile strength, and extremely abrasion resistant. You can also use this hose for more than grain vacuuming, including other high volume material handling applications.
(Image from Walinga PTO Grain Vacs)
Augers
For many years, flex hoses have been the industry standard for use in most augers. Flexaust's flexible auger hoses are manufactured with increased durability to meet these applications' demands. Despite this added strength, these hoses remain easy to transport if you need to move them between trucks, silos, and grain storage bins.
Importance of Anti-Static and Chemical Resistance Hoses in Agriculture
One of the biggest risks in many American industry sectors is that of explosions resulting from the ignition of combustible dust. If a facility isn't compliant with NFPA standard engineering controls to minimize the risks of hazardous dust or static, this could lead to extensive property damage, along with serious injuries or even death to employees or others on the premises.
In these applications, hoses are needed to handle various types of substances including:
Agricultural dust from processes involving sorghum, wet corn, sugars, flour, and other types of grains

Chemicals including pesticides, fertilizers, and other agricultural chemicals
Quality Agricultural Hoses at Flexaust
To meet the specific requirements of your application, Flexaust offers a selection of high-quality agricultural hoses, including fertilizer hoses, irrigation hoses, cotton-picking hoses, and many others using some of the most durable, flexible, and lightweight materials. To get started on choosing the right agricultural hose for your operations, request a quote for our products today or contact us for additional information about our offerings.