While winter is a strong season for industries like logging and energy, it can cause a number of problems for construction companies. Workers must take precautions to ensure peak productivity, structural integrity, and most importantly operational safety.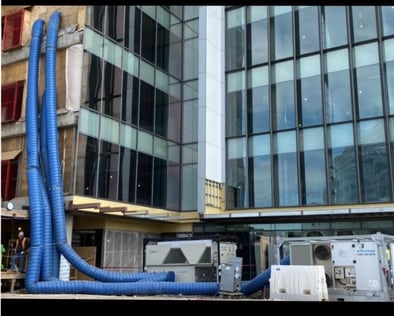 Why Winter is a Challenge in the Construction Sector
First and foremost, winter brings with it the danger of slip and fall injuries and hypothermia.
Frozen ground is difficult to work with, and may be slippery as well. Workers may also get so caught up in their work that they don't realize how cold they are. Without frequent indoor breaks to warm up, they may suffer the effects of exposure. Numbness in the extremities can also be a challenge of hypothermia since workers may not initially feel the pain of injury, or may not have full control of equipment.
Setting Concrete in Cold Weather
Setting of concrete is another major problem. For a durable finish, concrete needs to dry properly. If the water within the mixture freezes before drying, structural weakness is inevitable. The same holds true for mortar. The water in the mortar mixture may freeze and lead to the expansion of the packing material. This will result in an unstable structure once the ice thaws.
Drywall poses a challenge as well. If used below 60-degrees Fahrenheit, it becomes brittle and doesn't adhere to the intended surface. Therefore, even indoor construction requires some temperature regulation.
OSHA Regulations Concerning Cold Weather
Cold stress is very real. OSHA provides clear guidelines around how employers should evaluate risks related to dropping temperatures and damp while crew members are out in the open.
One of the easiest ways to boost productivity, prevent accidents, and preserve cold weather construction strength is to install a worksite heater.
These temporary, portable heating systems can be set up wherever the need for consistent temperatures is needed. Tents can be set up around construction sites to keep the heat in and allow concrete to set properly. They also provide a safe place for workers to get warm after working outside in the cold.
Flexaust offers a urethane coated polyester blower hose that is specially designed to provide smooth and uniform airflow in the most difficult outdoor circumstances. Easy to manipulate and attach, it is an ideal solution for keeping sites warm during cold weather construction.
Need to keep your construction site warm this winter? Contact us to learn more about a temporary heater duct that's the "hot" favourite of commercial and industrial construction companies.