A large number of applications rely on commercial vacuum hoses for floor care. These vacuum hoses offer powerful suction and are ideal for use in large facilities, industrial applications, and much more. Utilizing the proper vacuum hose and attachments can save time, labor, and cut costs associated with floor care over time.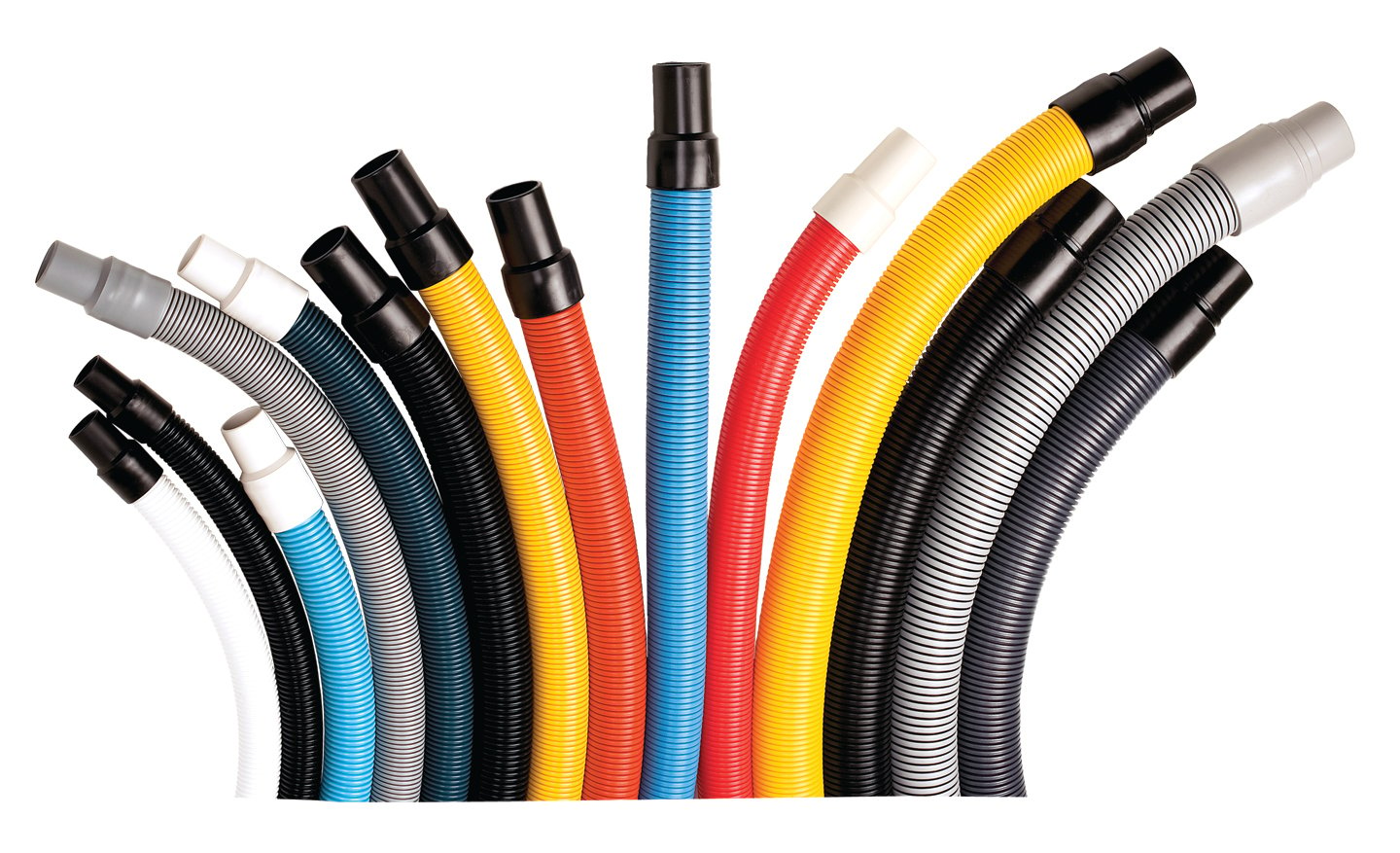 In this blog post, we discuss the different types of commercial vacuum hoses, their applications, and the materials used to fabricate them. At Flexaust, we not only offer vacuum hoses for commercial floor care but the accessories and attachments to go along with it.
Commercial Vacuum Hose Types and Applications

For various applications, different types of commercial vacuum hoses are available. There are many considerations to take into account when selecting the appropriate hose for your application. Some of these include; type of vacuum being utilized, type of debris being collected, and floor type in the facility.

At Flexaust, we offer a wide variety of commercial vacuum hoses, such as:

This is a black or gray polyethylene copolymer hose that features an integral polyethylene helix reinforcement. The I-Helix design feature allows for strength and ease of movement on various surfaces. It also features superior crush and abrasion resistance. All hose sizes can work with a full vacuum and are perfect for water extraction.

The CHT Floor Care Hose is a black thermoplastic rubber hose that includes a polypropylene blended helix and thermoplastic rubber reinforcement. This hose can withstand higher temperatures compared to the standard commercial hose. It works with hot air blowers, carpet cleaning machines and different types of extraction equipment.

This lightweight black hose features polyethylene conductive polymer construction along with a polyethylene helix reinforcement. It's highly conductive, with a smooth interior that allows for efficiency of airflow. It's best for industrial vacuuming of metal and paint sanding operations, and light bulk material applications that require the prevention of static buildup.

The Uni-Loop HT Floor Care Hose is made with lightweight red thermoplastic rubber and a thermoplastic rubber helix as reinforcement. The hose's smooth interior allows for efficient airflow, and it's resistant to crushing, corrosion, and abrasion. It's ideal for use in extraction equipment and carpet cleaning machines.

This lightweight gray hose consists of polyethylene copolymer with a polyethylene helix reinforcement. It includes a smooth interior for optimum airflow, along with external abrasion resistance capabilities. Use it as a drain hose or fill hose for floor scrubbers, a wiring conduit, or in lightweight vacuum applications.

The ULT Floor Care Hose features premium-grade platinum color polyethylene copolymer that's reinforced with a polyethylene helix. This hose features a smooth interior to facilitate airflow, external abrasion resistance, crush resistance, and great flex life to last for years of use. Applications may use it as a drain hose or a lightweight vacuum option.

This polyethylene copolymer hose is available in orange or blue colors and includes a polyethylene helix reinforcement. It's compatible with portable and truck-mounted carpet cleaning units and offers superior abrasion resistance and flexibility. It's also intended to help resist corrosion resulting from a combination of detergent chemicals and hot water.

The Flx Plus Floor Care Hose is a polyethylene helix-reinforced gray polyethylene copolymer hose. It's lightweight and maintains flexibility even at lower temperatures. It can be used as a wet or dry vacuum in a car wash or other environments requiring chemical-resistant hoses.

This lightweight black polyethylene conductive copolymer floor care hose includes a yellow skimcoat and a polyethylene helix reinforcement. It's best for applications requiring static prevention. It's compatible with floor care sanders, self-contained or central vacuum systems.

This polyethylene helix-reinforced lightweight gray polyethylene copolymer hose remains flexible at lower temperatures. It also offers superior abrasion resistance and is often used as a wet/dry vacuum in car washes, along with other commercial and industrial applications.

The MG-V Floor Care Hose is made with gray PVC and a vinyl-coated spring steel wire helix reinforcement. Many industrial and commercial applications use this hose, particularly in the floor care industry.

This MG-Series hose is made of black elastomer polyurethane and, like the MG-V, features a vinyl-coated spring steel wire helix reinforcement. Applications for this hose include PC board cooling, dust collection, truck cab ventilation, and textile vacuuming.
Vacuum Hose Material Selection
Material selection is another critical consideration when selecting the right vacuum hose for your application. Do you need something lightweight for easy portability? Or something more durable? When selecting the right material for your vacuum hose, it's important to think about the needs of the area you will be cleaning.
Our hoses are made with various materials, including:
Polyethylene
This versatile and lightweight material offers a variety of advantages for commercial vacuum hoses. It's also smooth to make it easier to clean and maintain. Its lightweight construction allows for portability and ease of handling.
PVC
PVC offers more strength and abrasion resistance than polyethylene. The material's mechanical toughness makes it suitable for harsh environments while maintaining ease of use.
Polyurethane
Polyurethane offers the benefits of both rubber and plastic. It's resistant to abrasion and tearing, and it is naturally flexible. Additionally, it features superior chemical resistance and weathering properties.
Thermoplastic Rubber
Thermoplastic rubber is highly resistant to tearing, which makes it suitable for applications in need of a vacuum that can travel over rough surfaces.
---
Custom Vacuum Hose Solutions at Flexaust
At Flexaust, we offer a selection of manufacturing processes and constructions for the floor care industry, enabling us to service a wide variety of vacuum hose applications. Our list of capabilities includes everything from stretch vacuum hoses to blow-molded and vacuum-formed assemblies. Regardless of your needs, we can meet them with the right product for your application. We specialize in central vac hose, carpet cleaning hose, floor scrubber hose, car wash hose, and many types of end fittings, cuffs, and connectors. We're ready to help develop a custom solution for your application today.
Contact Us for Your Commercial Vacuum Hose Needs
If you require high-quality vacuum hoses and accessories for any commercial or industrial application, we can provide you with the best available solution. To get started on your custom commercial vacuum hose solution, contact us or request a quote today.