Dust Collection 101
While all industrial processes produce some amount of waste, some types of debris are more difficult to remove than others. Blasting and sanding, for instance, produce a fine dust that can settle over large surfaces. When disturbed, these contaminants disperse into the air and can be inhaled, which can be harmful to the lungs. These types of debris also tend to create slipping hazards as they settle onto the floor and are difficult to sweep away. Dust collection systems help gather such substances before they become safety concerns, playing a critical role in maintaining a clean and safe workplace.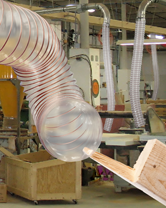 Dust collection systems work by combining a strong vacuum with a flexible industrial hose. At Flexaust, we offer a range of durable hoses for use with these systems, including custom made-to-order options for clients with demanding requirements.
Dust Collection Hoses
A typical dust collection system is comprised of a heavy-duty vacuum, an industrial hose, and a receptacle for collecting the dust. All dust collection hoses are strong and flexible, although some may be stiffer than others. For instance, hoses that collect debris from a single workstation can be thicker and less flexible than those that are used in a larger area. All industrial hoses are designed to quickly transport abrasive materials without tearing, and different hose materials accommodate different environmental variables.
Applications
Dust collection systems are used in a wide range of industrial settings. Some examples include:
Wood Fabrication.

Wood dust presents a significant fire and slipping hazard, and can also be harmful for employees to inhale. Dust collection systems remove the dust created by sawing, drilling, or sanding wood before it can accumulate.

Metal Fabrication.

Metal fabrication can produce fine shavings that are harmful and difficult to remove. This is especially common with aluminum, bronze, magnesium, and zinc fabrication, which is frequently seen in the cosmetics, coal, pharmaceutical, and furniture industries. Abrasion resistant industrial hoses remove these dangerous shavings as they're produced, protecting workers from lung damage.

Cyclones

.

Any cyclone-based particle-size reduction operation requires excellent circulation. Air leakage is a common problem in these processes, causing particles to be expelled into the work area. Dust collection hoses help manage this problem, regardless of the type of debris.

Agriculture

.

Whether it's dirt, plant matter, or rocks, dust collection hoses are key to keeping agricultural environments free of unwanted light material buildup. Flexaust offers puncture-resistant hoses ideal for heavy-duty agricultural settings.

Food Production.

Dry powdered goods are key ingredients in commercial bakeries and food processing plants, which quickly become unmanageable when used in bulk without proper ventilation. Dust collection hoses keep equipment clear of powder coatings and protect employees against potential accidents.
Key Considerations for Choosing the Best Dust Collection Hose
Different applications require different hoses for the best results. Some key variables to consider are size, material, static characteristics, and flex-fatigue. Size is the most straightforward: larger hoses accommodate higher volumes of dust, while smaller hoses are better for tight spaces.
Choosing a material can be difficult. Many materials are available for industrial hoses, each of which has its own benefits and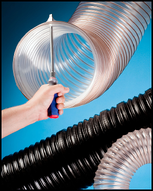 limitations:
PVC

.

PVC

is an economical and lightweight option with good compressibility and chemical resistance.

Thermoplastic Rubber (TPR).

TPR is considered the best general, all-purpose hose material, boasting excellent chemical resistance, great UV resistance, and good abrasion resistance. TPR is especially well-suited to applications with wide temperature ranges.

Polyurethane.

Polyurethane offers the best possible performance with superior abrasion and chemical resistance and excellent tensile strength. Polyurethane hoses are indispensable for heavy-duty industrial applications.
One variable to keep in mind when considering hose material is flex fatigue. Flex fatigue refers to the wear that occurs with repeated bending. Hoses with long flex lives can better endure the twisting and bending necessary to remove dust from every nook and cranny. Flexaust offers hoses with superior fatigue resistance, including the economical T-7 model as well as the Flx-Thane MD and the Flex-Tube PU 60 HF. These models have replaced less-durable EPDM hoses, which fail comparatively earlier.
Quality Flexible Dust Collection Hoses & Fittings From Flexaust
Flexaust carries a wide variety of dust collection hoses built for diverse applications. Our top models include: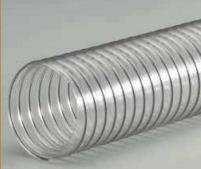 Best for General Positive Pressure Applications: R-4.
The R-4 is an excellent all-around hose for positive pressure applications, including most dust management scenarios. The R-4 is made from affordable, medium-weight PVC hose reinforced with a spring steel wire helix for crush resistance. It also features excellent moisture and chemical resistance.

---

Best General Purpose: T-7.
Stronger and more durable than the R-4, the T-7 is composed of black TPR, which grants the hose good abrasion resistance and resistance to UV, moisture, and chemicals across a wide temperature range. This well-rounded profile makes the T-7 our most popular general-purpose dust collection hose.
---

Best Lightweight: Flx-Thane LD.


The Flx-Thane LD is made from FDA-approved, lightweight polyurethane for optimal performance. It offers superior compressibility and abrasion resistance and is highly flexible. The combination of performance polyurethane with a bronze-coated spring steel wire reinforcement makes this hose our best performing lightweight option.



---
Best for Low Temperatures: Flx-Thane MD.


Slightly heavier than the Flx-Thane LD, the Flx-Thane MD maintains the benefits of polyurethane construction, including excellent tear and abrasion resistance. The Flx-Thane MD performs well across a wide temperature range, and it offers excellent flexibility even at low temperatures.



---

Best Static Dissipative: Flx-Thane SD.


The Flx-Thane SD is similar to the Flx-Thane MD, but it is made from a static-dissipative polyurethane for permanent, non-humidity-dependent protection against electrostatic discharge. This property is especially useful for applications involving combustible dust.



---
Best for Plastic Fabrication: FlexStat.


FlexStat combines the electrostatic discharge protection of the Flx-Thane SD with increased flexibility and smooth interior, making it an excellent tool for plastic pellet and efficient powder transfer applications.



---
Best Ultra-Flexible: R-4 Stretch.


The R-4 Stretch offers all the benefits of the standard R-4 model, but it also stretches and retracts for convenient operation. This made-to-order hose is the best choice for facilities with space constraints.



---
Other specialized offerings include:
Flx-Thane LD-SD.

Ideal for static dissipation in light-duty applications

Flex-Tube EF (Eco-Friendly).

A more environmentally-friendly choice that still offers good chemical and abrasion resistance

Flx-Thane XLD.

A more affordable option for applications with heavy temperature fluctuations with great compressibility

R-2.

A cost-effective PVC alternative to the R-4 with excellent flexibility



---
Contact Us for Your Hose Needs
Proper dust management protects employees, prevents fires, and maintains a tidy workspace. However, there is no one-size-fits-all solution for dust collection. Analyzing the optimal size, material, and flexibility for your application is the only way to receive a lasting and effective solution. For assistance navigating Flexaust's catalog of premium dust collection hoses, contact our team today.