A fume extraction hose is an important piece of equipment for many industrial applications, especially those that filter high levels of fumes and other potentially harmful emissions. Its main function is to remove harmful chemicals and fumes from the equipment to the air filtration system. The hose is a secondary piece to the larger main filtration system, which safely disperses the fumes. If the exhaust hose is not connected to a larger main filtration system, it cannot transport the fumes to a ventilated area for safe dispersal. Our exhaust hoses are environmentally resistant, durable, flexible, and useful in a range of applications that make the air safer and breathable.
Fume Extraction/Exhaust Hose Applications and Benefits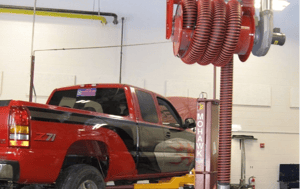 Because fume exhaust hoses are extremely flexible and adaptable, they can attach to existing exhaust equipment to create a source capture system or connect to separate machines. Exhaust hoses are commonly attached to two different objects, and serve as the ducting between them. In the proper application, a fume extraction hose can operate as the autonomous exhaust system by attaching directly to the emission source.
Its main application is used in areas where there are large amounts of emissions from diesel and engine exhaust. Areas like mechanic garages and firehouses have large amounts of dangerous fumes in the air, which requires proper air filtration. In many cases, the fume extraction hose is placed in an area near the vehicle and directly removes the fumes out of the garage and into a safely ventilated area for disposal. Other common applications of exhaust hoses include aircraft, kilns, chemical systems, and areas with high-temperature machinery.
Inhaling the fumes, smoke, and dust that is emitted by machinery and vehicles can be dangerous, especially to long-term health. Proper breathing is imperative to all workers, and the use of a simple fan to clear the air won't completely remove the hazardous fumes. That's where a fume exhaustion hose is needed to properly eliminate the fumes before workers have the chance to breathe it.
Industrial Exhaust Hose
Industrial exhaust hoses are used in many applications that involve high-temperature air, toxic chemicals, and fumes. There are many types of exhaust hoses and ducting made from various materials including PVC, neoprene, polyester, and others. Using the right hoses and ducting, workers and equipment can remain safe from exposure to potentially harmful gases and fumes.

Common Applications
Some specific applications for industrial exhaust hoses include:
Quality Hoses for Exhaust System Applications
Depending on your application's needs, Flexaust carries a wide range of high-quality exhaust hoses for nearly any environment. Our hoses come in a variety of materials including fiberglass, Teflon®, and aramid fabrics, along with steel and silicone reinforcements. Our line of Flex-Lok flexible exhaust hoses is compatible with many applications requiring sufficient heat resistance and fume mitigation in confined spaces. These hoses often appear in facilities such as garages, train depots, and fire engine stations to protect workers, pedestrians, and equipment.
Our extensive inventory includes the following exhaust hoses:

A silver aluminum-coated fiberglass fabric hose featuring double-ply construction with extreme temperature resistance.

---

Double-ply red wire-inserted fiberglass fabric hose featuring extreme heat resistance and flexibility.

---

Single-ply silver silicone-coated fiberglass fabric hose that's highly flexible and flame retardant.

---

Single-ply green Para-Aramid fabric hose that features excellent tensile strength, puncture resistance, and fatigue resistance.

---

Double-ply silver and silicone-coated fiberglass fabric hose made with a silver heat-resistant fiberglass liner.

---

Double-ply red wire-inserted fiberglass fabric hose featuring a silver heat-resistant fiberglass liner.

---

Double-ply black Teflon® fabric hose that's ideal for venting harsh chemicals.

---
Single-ply black acrylic-coated polyester fabric hose that's ideal for air and fume handling applications, including overhead vehicle exhaust systems.

---
Single-ply neoprene-coated polyester fabric hose that's used for light-duty and low-pressure applications.

---
Types of High-Temperature Exhaust Hose Fabrics
High-temperature hoses facilitate the movement of fumes and hot air through various industrial systems and equipment. Flexaust offers several variations of high-temperature hoses featuring a range of flexibilities and temperature ranges. They're made from several types of high-quality construction materials, providing different levels of suitability and flexibility for a variety of applications.
Teflon® Fabric Hoses - Benefits and Properties
This material is used in our Flex-Lok TCF hose and is ideal for venting many types of harsh chemicals. It features a sealed exterior that effectively prevents fumes from escaping, with excellent resistance to heat, wear, and tear.
Coated Fabric
High-temperature coated fabric hoses come in a variety of fabric combinations. These hoses may include silicone, fiberglass, or neoprene coating with a single- or double-ply coated fabric. When made with a ply, hoses are often more suitable for applications involving temperatures of up to 1200°. Our line of Flex-Lok hoses features a selection of coated fabrics.
Aramid Fabric Hose
Another fabric used in high-temperature applications is aramid, or aromatic polyamide. These fibers are man-made and include molecules that consist of rigid polymer chains. Aramid fibers' strong hydrogen bonds allow for the efficient transfer of mechanical stress, which helps reduce the molecular weight of the polymer chains. As a result, aramid materials are strong and highly resistant to abrasion, organic solvents, and electricity, with no melting point and minimal flammability.
The Ideal Fume Extraction Hoses — Flex-Lok® Series
Flex-Lok® TCF is a Teflon® coated fabric hose that provides high chemical resistance and operates at temperatures up to 600°F, making it ideal for handling harsh, wet fumes. It features double-ply construction with a silver heat-resistant fiberglass liner that is mechanically crimped in a continuous process. This flexible hose has a sealed exterior, which prevents the escape of dangerous fumes, and is available in a wide range of sizes. Most commonly, the Flex-Lok family is used for extremely hot engines for fume extraction in firehouses or truck terminals, where vehicles are running in a closed space, but the fumes need to be extracted outside.
Flex-Lok® TCF hose provides superior fatigue resistance and good flex characteristics, making it an excellent option for reel and drop systems. We supply this high temperature and chemical-resistance flexible hose in 4" to 20" I.D. sizes, and it's available in standard 25 ft. lengths. We also offer an option with a non-marking thermoplastic rubber clip cover to protect the helix.
Other chemical fume extraction hoses we offer include:
The Ideal Chemical Fume Extraction Hoses
In chemical fume extraction applications, you need a hose that is easy to maneuver and can withstand a multitude of harsh conditions. This hose needs to be dependable to ensure a safe setting around any chemical fume extraction.
Chemical fume extraction hoses we offer include:
Unlike fume extraction hoses used for hot engines or other extreme heat environments, these chemical fume extraction hoses are not always used for high-temperature applications. They can be used in pulp & paper, chemical manufacturing, and the handling of any toxic media.
Contact Flexaust for Your Hose Needs
At Flexaust, we have the expertise to ensure our clients have the fume extraction hosing equipment they need to keep workers safe. For over 80 years, our mission has been to provide the highest quality products and find innovative solutions for our clients.
Our industry-leading cleaning and fume extraction equipment, including the ideal fume hose choice Flex-Lok® TCF, is the best choice for any industrial business that values worker safety.
Request a quote to get started on optimizing your space's breathable air. To learn more about our other product offerings, contact us today.