Industrial hoses can be outfitted with different fittings and accessories to enhance their performance for a wide variety of industrial applications. At Flexaust, we specialize in finding the best industrial hose solutions in order to suit the unique needs of our customers. This guide was created to help you learn more about the types of fittings and accessories we offer and the materials we use.
Hose Accessories for Industrial Hoses
Along with our industrial hose and ducting products, we offer many hose fittings and accessories to increase the efficiency of a wide range of applications. The purpose of these hose fittings is to seal the host in order to prevent leaks and create a tight, secure connection. We use the STAMPED selection process to evaluate size, temperature, application, material, pressure, ends, and delivery to help our customers find the best hose and hose accessories for their applications. When it comes to evaluating ends, it's important to understand hose style, materials and dimensions, conductivity requirements, and more in order to select the best end fitting for your application needs. At Flexaust we maintain a broad selection of clamps, adapters, Y connectors, and more in multiple different material types.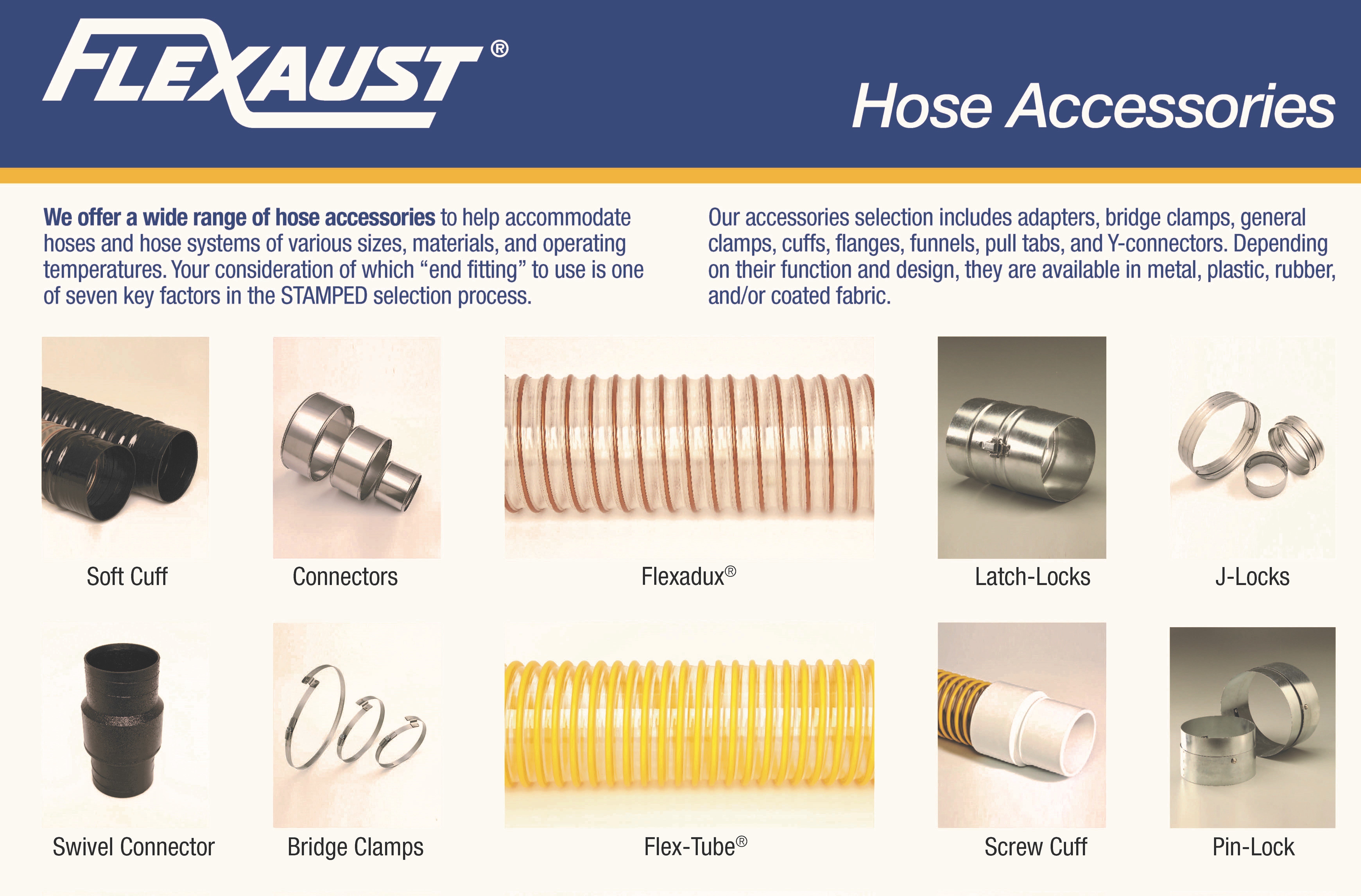 Types of Industrial Hose Fittings and Accessories
There are a variety of end fittings and accessories you can choose from in order to get the job done. These products can be used to connect hoses together in order to create a longer hose, connect hoses to equipment, secure connection points, and much more. Consider using end fittings and accessories to make your processes more efficient, productive, and secure.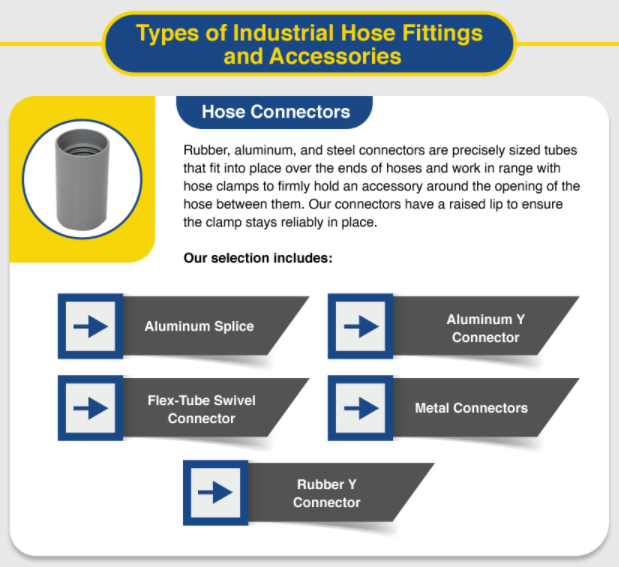 Hose Connectors
Rubber, aluminum, and steel connectors are precisely sized tubes that fit into place over the ends of hoses and work in range with hose clamps to firmly hold an accessory around the opening of the hose between them. Our connectors have a raised lip to ensure the clamp stays reliably in place.
Our selection includes:
Hose Cuffs for Blower Hoses
Cuffs can be attached to Springflex® blower hoses to extend the length of the hose and connect it to subsequent sections. They feature belts or other fasteners for a quick, secure hold, and they are made from flexible material with insert supports.
Our selection includes:
Hose Flanges
Flange couplings are useful tools for connecting different hoses and fittings together while ensuring a reliable seal. Flanges from Flexaust are compatible with Heat-Flex® (excluding Reduced Cuff and Felt Flange) and Springflex® hoses.
Our selection includes:
Hose Clamps
Our circular clamps provide a tight hold to connect fittings and accessories to the main body of the industrial hose. They use different tightening and closing mechanisms to provide a tight seal that won't damage or wear down the fitting materials.
Our selection includes:
Hose Locks
Like connectors, locks are convenient tools for quickly and securely connecting hose fittings or accessories. We provide them in a wide range of sizes starting at 4" across, and they are built to work across our Flexadux®, Flex-Tube®, Flexaust®, Heat-Flex®, Flex-Lok® (excluding Screw Clamps) and Springflex® industrial hoses.
Our selection includes:
Hose Adapters
We offer specialized tail adapters to protect the underlying hose during attachment and to make hose openings compatible with a wide range of accessories.
Our selection includes:
Hose Ports
Door ports allow for easy venting without leaving the hose open to potential contamination or damage. The door port opens automatically as an outlet once the venting gas pressures are high enough to open the door. Hose ports are designed to be used with the Flexaust garage exhaust hose product line.
Our selection includes:
Other Accessories
Our additional accessory options include:
Material Options
Our fittings and accessories are built from different materials to best achieve the fitting's intended purpose. Our material options include:
Metal
Metal is a sturdy, strong material that can handle rugged environments and applications. Our fittings can be built from aluminum or stainless steel.
Plastic
Plastic is sturdy, easy to clean, and can be exposed to a wide range of temperatures, contaminants, and conditions without being affected. Our options include PVC and polyurethane.
Rubber
Thermoplastic rubber is a resilient, flexible material. It can provide a strong hold without being too rigid or brittle.
Coated Fabric Metals
Our coated fabric metals are PVC-coated polyester fabrics that are reinforced with spring steel wires. This unique blend of materials guarantees strength and resilience against crushing or damage while also allowing the material to be lightweight and easy to compress.
---
Contact Flexaust for Your Industrial Hose Accessory Needs
At Flexaust, we provide industrial hoses designed for low-volume air, fume, and dust collection applications. Our wide selection of industrial hose accessories and fittings can help you create different hose and ducting configurations with greater efficiency and performance. Contact us today to learn more about our capabilities or request a quote for pricing details.