When selecting the best hose for your industrial application, the material you choose can make all the difference. Although it may be tempting to choose the least expensive option, remember that some hose materials may be better for certain applications than others. Both interior and exterior factors will affect the performance and service life of your hose, so it is important to consider the potential for abrasion, extreme temperatures, UV exposure, and chemical exposure, among other factors.
At Flexaust, we have the knowledge and experience to help you find the ideal hose material. To help you choose the right hose material for your needs, we have compiled a list of the most common hose materials with a summary of their properties, strengths, and uses. With this information, you can improve the efficiency of your operation while minimizing maintenance and replacement costs.
Flexible Industrial Hose Materials
One of the most important features of any industrial hose is flexibility. Fortunately, there are a wide variety of flexible hose materials available to meet the various requirements of industrial applications.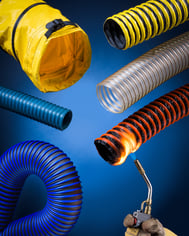 Thermoplastic Rubber
Thermoplastic rubber hoses provide the strength and durability of plastic with the flexibility of rubber. They are highly versatile and can operate effectively in temperatures as high as 275 °F. Thermoplastic rubber hoses are often used in high-pressure hydraulic systems, chemical fume processing, and other pressurized gas conveyance applications.
PVC
PVC hoses offer an economical option for indoor, light-duty operations. While PVC may not be ideal for outdoor operations where exposure to UV radiation or extreme temperatures may cause it to degrade, it can be relied upon for a durable and effective indoor plumbing, ventilation, and other low volume, light material applications. At Flexaust, we stock a wide range of PVC hoses in white and clear designs, in multiple sizes.
Our Flex-Tube PV-SC and Flex-Tube PV SD-LW hoses fall under this category and feature ultra-smooth interior walls to assure efficient airflow, while also holding flexibility and crush-resistant properties. For Flex-Tube PV-SC, its high conductivity reduces the danger of static buildup and allows electrostatic buildup to escape when properly grounded. Flex-Tube PV SD-LW has permanent and non-humidity dependent ESD (electrostatic discharge) protection.
Polyurethane
Polyurethane hoses are heavier than their counterparts, making them ideal for extremely heavy-duty applications in the agriculture, industrial manufacturing, mining, and lumber industries. Polyurethane hoses can withstand the rigors of outdoor use, including UV radiation, extreme heat and cold, and superior abrasion resistance. Flexaust is proud to offer some of the most durable polyurethane hoses on the market in a variety of diameters and lengths.
Static Dissipative Polyurethane
Like conductive PVC, static dissipative polyurethane is valued for its ability to reduce the buildup of static electricity. It combines the durability, chemical resistance, and temperature resistance of polyurethane with additional static control capability, providing an excellent dust collection option. Our specialized FlexStat polyurethane hose is manufactured to minimize friction and material buildup while maximizing air flow through an exceptionally smooth interior surface.
Neoprene
Neoprene has been historically used in a variety of hoses and ducts, though it is less common now than it used to be. A valuable and inexpensive option, neoprene functions well in extreme temperatures and has a high level of chemical and oil resistance. This chemical-resistant hose exhibits low toxicity, making it ideal for use in pharmaceutical and water distribution applications. Its resistance to oils and tolerance of high temperatures also makes neoprene common in hoses for automotive and mechanical applications where oil and grease is present. Flexaust offers an extensive range of durable neoprene hoses with a wide range of diameters to meet the needs of nearly any application.
Silicone
Silicone is a highly versatile, durable, and flexible hose material option. Since silicone retains its shape when exposed to extremely high temperatures, it is often used in high temperature exhaust, fuel, and engine systems to convey hot gases. In addition, silicone is highly inert, which makes ideal for flexible chemical hoses and chemical resistant tubing in chemical processing environments where exposure to corrosives and solvents is common.
Polyethylene
Polyethylene hoses are extremely durable, and greatly resistant to abrasion, crushing pressure, and kinks. The material's exceptional level of strength makes polyethylene hoses ideal for high-traffic applications with high-velocity movement, wastewater treatment, and industrial ventilation systems. Polyethylene also has a high level of chemical resistance, and is often used in acid resistant tubing. We offer a full product line of polyethylene hoses to meet a variety of vacuum applications.
Coated Fabric
Coated fabric hose material is an excellent option for high temperature applications. These hoses, which include our patented Flex-Lok mechanically crimped in a continuous process design, are manufactured using extremely durable, manufactured with flame-resistant coatings. They are designed to ensure safe and reliable operation in extreme temperatures as high as 1200 °F. We are pleased to offer flexible coated fabric hoses in a variety of diameters and lengths to meet specific needs.
The coated material and single or double ply determines the durability and temperature – fiberglass coated, silicone coated, aluminum coated, Teflon® Coated, neoprene coated polyester, para-aramid fabric hose.
Durable and Reliable Flexible Hose Solutions from Flexaust
At Flexaust, we are dedicated to helping our customers find the perfect hose material to enhance the safety and efficiency of their operations. Whether you are in need of hoses for high-temperature exhaust or corrosive liquid transfer, we have the perfect hose design and material for your needs. To learn more about our extensive selection of hose materials, contact our experts today or request a quote.