Food and beverage companies must comply with strict standards that indicate the type of equipment they can use for their production operations. These requirements and restrictions are enforced to ensure the safety of consumers as the wrong equipment can lead to product contamination. They may apply to the entire piece of equipment as well as to the individual components, such as the transfer hoses.
In the United States, food-grade hoses must be designed and built to the specifications outlined by the Food and Drug Administration (FDA). This ensures they allow for the clean and safe transfer of food materials. While these components come in numerous variations, differing with regard to size, pressure rating, and temperature rating to suit different customer needs, they also have some common characteristics.
Below, we highlight the shared characteristics of food-grade hoses as well as outline some of their typical applications.
Key Characteristics of Food-Grade Hoses
Food-grade hoses are made from flexible materials, such as polyurethane, polyvinyl chloride (PVC), or thermoplastic rubber. Additionally, they typically have an internal helical wire made from spring steel or stainless steel that provides strength and durability to the overall assembly. While they may look like other types of hoses, they differ from them in the following ways:
Non-toxic, non-metal construction.

Metal components are susceptible to corrosion, which can lead to product contamination during production operations. Plastics and rubbers offer an inherent resistance to corrosion, making them ideal for equipment used in food and beverage operations.

Excellent durability.

Food-grade hoses are designed to withstand the harsh conditions found in food processing facilities (e.g., high temperatures and pressures). As a result, they are often more durable than other types of hoses.

Pressure capacity.

Many food processing operations rely on the maintenance of various pressure conditions. Quality food-grade hoses are capable of achieving and sustaining specific pressure and vacuum levels as needed.

Odorless/tasteless design.

Food-grade hoses are engineered to not add any odors, contamination or flavors to the conveyed material, which helps maintain the integrity of the final product's taste and aroma.
Typical Applications of Food-Grade Hoses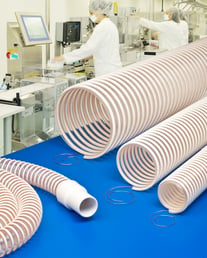 In food processing applications, food-grade hoses are generally used to transport bulk dry food materials, such as cereal, flour and sugar. They are also used in pharmaceutical production operations to transport capsules and tablets. In both cases, Flexaust food-grade hoses are made with FDA-acceptable materials and, if necessary, USDA standards for food contact.
These hoses can be cut to different lengths and fitted with various fittings. This customizability ensures the hose assembly meets the equipment and operation requirements.
Contact the Hose Experts at Flexaust for Your Food-Grade Needs Today
Food-grade hoses are a critical element of many food processing operations. Need quality hose components for your food production facility? Turn to the hose experts at Flexaust today!
Our food-grade hoses are suitable for any light material handling operation involving solid foods and powders. While they come in a variety of materials and sizes, all of them are made with FDA-acceptable materials. Typical applications for these hose products include:
Food factory venting

Cereal manufacturing

Cosmetic manufacturing

Pharmaceutical manufacturing

Sugar manufacturing

Flour manufacturing

Spices manufacturing

Tablet manufacturing
Food-Grade Hoses from Flexaust
Found in our food-grade hose page, below are the hose products Flexaust recommends for the job:
FlexStat CR

.

This hose is made clear white and made with FDA-acceptable materials. It is also

ideal for clean room and pharmaceutical applications, powder processing, and pneumatic conveying systems.

Flx-Thane SD

.

This product has the appropriate static properties when it comes to a powder application. It is also clear and manufactured with FDA-acceptable materials.

R-4

.

This clear PVC hose has great compressibility and a great choice for fine material handling in the food manufacturing industry.

White

.

Perfect for food-grade and pharmaceutical use, this Double-ply white acrylic coated polyester fabric hose is a versatile option.



To learn more about our food-grade hoses, browse our food-grade hose page or contact us today. For more detailed product information or pricing details, request a sample or request a quote.