Industrial hoses fall under a broader category of hoses and ducts that are available in a wide range of options, sizes, materials, and applications. This blog post will provide an overview of the industrial hoses offered at Flexaust, a guide to choosing the right industrial hose, and why you might want to consider Flexaust as your industrial hose supplier.
Types of Industrial Hoses
Industrials hoses are typically for lightweight material handling and fumes, with many types available to suit different work environments. At Flexaust, we have hundreds of industrial hose categories, but here we break down five of them according to specific working conditions: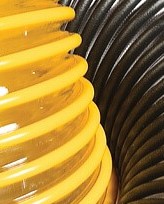 Hose Materials, Properties, Common Application and Benefits
Industrial hoses also come in a wide range of materials. Proper material selection is important to ensure that hoses will perform correctly within their applications. The following chart will explore the common properties and uses of the materials we work with most at Flexaust.
Material

Common Properties

Industrial Uses

Product Options

Coated fabric

Flame retardant, high temperature resistance up to 1200° external abrasion and drag resistance, compressible

High temperature & fume extraction:

Aluminum refractory
Mining

Conductive PVC

Smooth interior for efficient air flow, flexible design, high conductivity reducing static

Dust Collection/Light Material Handling:

Industrial Vacuum
Pharmaceutical

Static dissipative polyurethane

Surface resistivity level: 108-1010 , high-tear strength

Dust Collection/Material Handling

Static Control
Clean rooms

Polyethylene

Crush resistance, abrasion resistance, flexibility

Chemical fume extraction:

Industrial Vacuum
Bus Ventilation

Polyolefin

Smooth interior, chemical resistance, eco-friendly

Chemical fume extraction & dust collection:

Pollution control
Insulation removal

Polypropylene

Long flex life, UV & moisture resistance

Light material handling:

Polyurethane

Heavy, puncture resistant, high tear strength, low-temperature resistance, versatile, chemical resistance, high pressure uses

Dust Collection/Material Handling:

Agricultural
Silica Dust
Woodworking

PVC

Ultra-smooth interior, flexible, economical

Ventilation/Light Material Handling:


Furnace duct cleaning
Textile collection

Silicone

Lightweight, flexible, oil resistance, solvent resistance, alkali resistance

High Temperature:

Dry cleaning
Exhaust Systems
Paper Mills

Thermoplastic rubber

Oil resistant, wide temperature range, UV resistance, versatile

Chemical fume extraction:

Chemical plants
Injection molding
Selecting the Right Type of Hose
When selecting the right type of hose, there are seven critical factors you need to consider. These include
Size
Temperature
Application
Media
Pressure
End fittings
Delivery
At Flexaust, we refer to these factors by the acronym "STAMPED." Following these guidelines will help to ensure you select an appropriate hose for your application.
Why Flexaust
At Flexaust, we provide a broad selection of durable and reliable flexible hose solutions ideal for use in chemical fume extraction, dust collection, material handling, ventilation, and high-temperature applications. We manufacture flexible hoses made from a variety of materials. Some of many industries we serve include:
Contact Us for Your Industrial Flexible Hose Needs
At Flexaust, we have been manufacturing industrial hoses for over 80 years. It is our company's mission to find innovative and creative solutions for all of your industrial hose needs, delivering the highest quality products every time. If you would like to learn more about Flexaust and our industrial hose products, feel free to contact us or request a quote today.