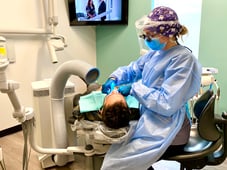 In everyday applications, one essential task is maintaining air quality. One of the key components that helps accomplish this task is a ventilation hose. Ventilation hoses come in various types and materials, which can make it challenging to select the right one for your needs. Here, we'll go over many types and materials of ventilation hoses offered by Flexaust as well as their various applications.


Ventilation Hoses 101
Applications of all types rely on ventilation hoses to help keep the air consistently clear of smoke, chemicals, and other potential contaminants. Some common applications that use these hoses include:
Elevators
Healthcare facilities
Indoor tents
Factory floors
Worksites
Confined space applications
Restoration and construction
Industrial painting and abrasive blasting

To ensure that these ventilation hoses succeed in maintaining air quality, they require both temperature and chemical resistance, as these aspects can protect the hoses from potential damage. Hoses must be durable and capable of resisting outside elements when ventilating high volumes of smoke, chemicals, and air. Additionally, hoses require reliable attachments to meet the needs of different applications.

Hoses with combined flexibility, durability, and resistance to heat and chemicals can provide sufficient solutions for a majority of facilities. The right hose will make for a safer environment for visitors and employees while maintaining efficiency.


Ventilation Hose Types, Materials, and Common Applications
At Flexaust, we manufacture our ventilation hoses using carefully selected top-quality materials that remain consistently reliable in most environmental and operational conditions. Our hoses are made from a wide range of high-grade materials including:
Coated fabric
PVC
Metal
Polyolefin
Polyethylene
Thermoplastic Rubber
Ventilation Hoses from Flexaust

Our selection of high-quality ventilation hoses includes:
---
Contact the Experts at Flexaust for Quality Flexible Ventilation Hoses
Depending on the needs of your application, there is a compatible ventilation hose available to meet your needs. For more than 80 years, Flexaust has produced durable, flexible, and long-lasting hoses and ducts for a variety of commercial and industrial applications.

To learn more about our products or for help choosing the best ventilation hose for your needs, contact us or request a quote today. You can also learn more by checking out our eBook, "The Rising Importance of Proper Ventilation."