As the leading manufacturer of flexible hose and ducting products, we have been expanding our product lines to meet the growing demand for innovative solutions. As with all of our products, these new products deliver outstanding value to all applications.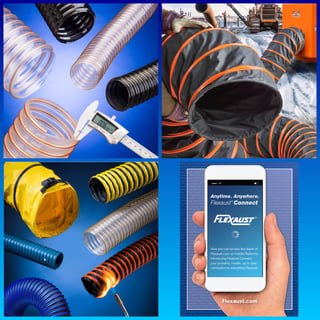 One of the new services we are excited to offer our customers is Flexaust Connect:
Flexaust Connect is a new mobile app that lets users connect to our extensive inventory, and access the depth of our website to find products and answers to all hose and ducting questions. Available for both iOS and Android devices, the app will allow the user to share technical data sheets, and stay up to date with industry news and Flexaust press releases. It also allows the user to search and share through your mobile device and stay connected to everything Flexaust.
Over the last few months we have also introduced four high performance hose and duct items. Each of these products features the quality and durability Flexaust customers have come to rely on. The newest 2016 additions to the Flexaust products and services include:
To learn more about our high-performance products and services, please feel free to contact us here.