Where maintenance is concerned, most businesses focus on the operational aspect of their automobile investments. Common questions include:
Are the engines functioning efficiently?
Are the parts free of wear and tear?
Are the emissions in compliance with national regulations?
These are all important considerations, but what about the restricted spaces where vehicles and repair machinery are stored? Few people think about the implications of the garage or other areas equipment will be housed.
Large vehicles like fire engines, trains, and heavy-duty trucks rumble in and out of garages, pumping their fair share of exhaust debris and fumes.
While the indoor volume is negligible in comparison to what might be released over the journey, particulates and gases can quickly build up.
The Dangers of Indoor Vehicle Storage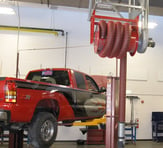 Carbon dioxide build up is extremely common in closed off spaces. And because CO2 is leaches from garages to adjoining quarters, professionals like firefighters who are in close proximity may be exposed to it throughout the day.
Dust particles and trace build ups of flammable gasses also demand attention. Since vehicles are made up of electrical and mechanical components, a small spark can prove to be disastrous if gasses have been accumulating in a closed structure.
Recommended Precautions for Garages
Garages that are larger than 500 square feet require mechanical ventilation. If the vehicles are simply stored and not run or repaired, then the air in a garage should be changed or turned over at least 4 times an hour to prevent accidents and violation of worker safety regulations.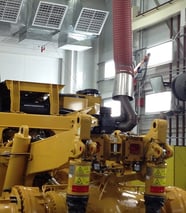 The number of vehicles being stored also weighs in when it comes to determining the frequency of this change. Crowded spaces require more powerful exhaust systems. Simply installing a set-up isn't enough. It must be checked and regularly updated to be effective.
Need to update your garage exhaust system? Browse our range of options to find the right hoses for garage ventilation.