It is estimated that 2 million workers are exposed to dangerous amounts of silica dust every year. While dust or particulate matter doesn't carry the urgency of a leaking gas pipe or even trips and falls – many call silica the Silent Killer.
Why is Silica Such a Hazard?
Silica exposure doesn't start to display debilitating symptoms right away. Workers need to inhale a certain volume of the particles everyday for the health challenges to manifest.
There is no official cure for silicosis, which is an illness caused by repeated exposure. Supportive care is the extent of relief that patients can expect. Silica also causes lung cancer, chronic obstructive pulmonary disease and kidney failure.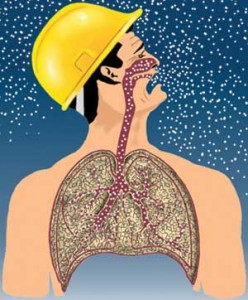 Long term exposure to silica dust therefore reduces worker productivity and makes employees much more likely to rely on employer paid insurance for treatments.
The OSHA PEL: The mere fact that almost everything from sand to stone to concrete and mortar can give off silica during abrasive blasting, foundry work and fracking makes regulating respirable dust that much more difficult.
OSHA is trying to protect close to three million workers in general and maritime industries with its enforcement of the respirable crystalline silica rule.
The lowest permissible exposure level (PEL) has been reduced to 50 micrograms of silica per cubic meter (50 µg/m3) of air over an 8-hour time-weighted average (TWA) across all industries. This new regulation is expected to be enforced beginning June 23rd, 2018.
Not only will factories and businesses need to ensure that their employees breathe in less than this stipulated volume, they will also have to demonstrate (if they are scrutinized) that the concentration of silica particles is unlikely to increase in the foreseeable future.
What Can You Do?
Pre-emptive measures carry a lot of weight. Precaution is definitely the sentiment driving this OSHA decision.
Businesses will be expected to:
Identify how silica is produced at their operation sites.
Come up with ways to control the production of the hazardous particulate matter.
Use respirators and protective personal equipment to limit exposure.
Deploy strategies like effective ventilation to prevent silica dust build-up.
Flexaust can help businesses prepare for OSHA's latest silica regulation. We are a leading supplier of ventilation hoses and custom ventilation solutions. If you would like to know more about our products, please request a sample here or a quote here.